Dermot Browne's Letters from the Western Front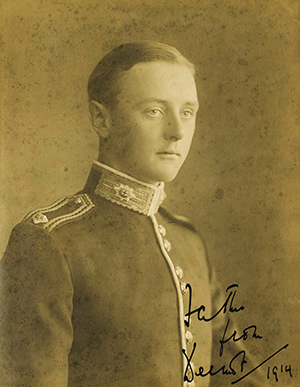 Maurice Henry Dermot Browne, known as Dermot, was the second son of Valentine Browne 5th Earl of Kenmare and his wife Elizabeth Baring Browne. During the 1870s the Kenmare family estate covered over 91,000 acres. It was the third largest estate in County Kerry and included much of Killarney's lakes and mountains.
Dermot was born on 25 July 1894. His family was staunchly Catholic and he attended Downside, a well-known Catholic boarding school in Somerset, England. In 1912 he passed into the Royal Military College at Sandhurst before being commissioned into the Coldstream Guards as 2 nd Lieutenant the following year. In August 1914, following the outbreak of the First World War, Dermot's regiment was sent to France. His letters home reveal some of the hardships of trench life and his longing to see his family and Killarney once more. Read more Here.
Listen Here to extracts from letters compiled by Patricia O'Hare and dramatized by Fionn O'Hare Doherty (Dermot) and Dáire O'Hare Doherty.