The Big Spring-clean!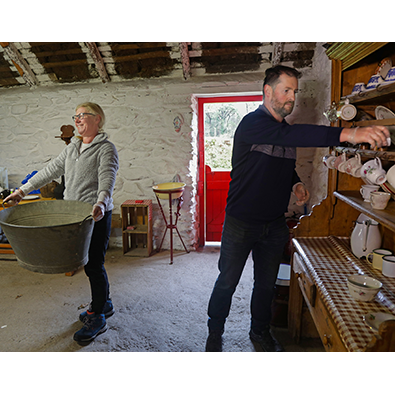 After a long winter, Muckross Traditional Farms will once again open to the public on Saturday 19 March. Library staff members David Lynch and Joan O'Connor have been busy spring-cleaning each dwelling for the big day. Here they are unpacking and re-organising the furnishings in Kissanes' farmhouse.
Replacing all the china on the dresser takes a bit of time. Traditionally the dresser was one of the most important items of furniture in an Irish dwelling. The housewife proudly displayed her colourful collection of china and willow pattern ware upon its shelves. Plates were often displayed leaning forward against horizontal guardrails, to prevent a build-up of dust. Cups and jugs were usually suspended from hooks. .
The base of the dresser could be open or closed and was used for storing large cooking utensils, or pails of milk or water. Sometimes it was even home to a hatching hen!