We would like to apologise for any inconsistencies across our website as we are currently working to update it.
Welcome to Muckross House Research Library
The aim of Muckross House Research Library is to document the traditions, way of life, and history of the people of Kerry.
Since its establishment, almost fifty years ago, the Library has played an important role as a Centre for the Collection, Storage and Preservation, of documentary material relating to Kerry.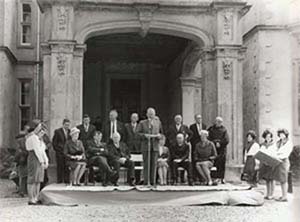 The Trustees of Muckross House (Killarney) CLG., is a voluntary and not-for-profit organisation.
The Herbert Family of Muckross enjoyed a high social standing, which reached its climax in 1861, with the visit of Queen Victoria to Killarney.
The Irish Free State came into being at the end of 1922, following the signing of a Treaty with England in December 1921.